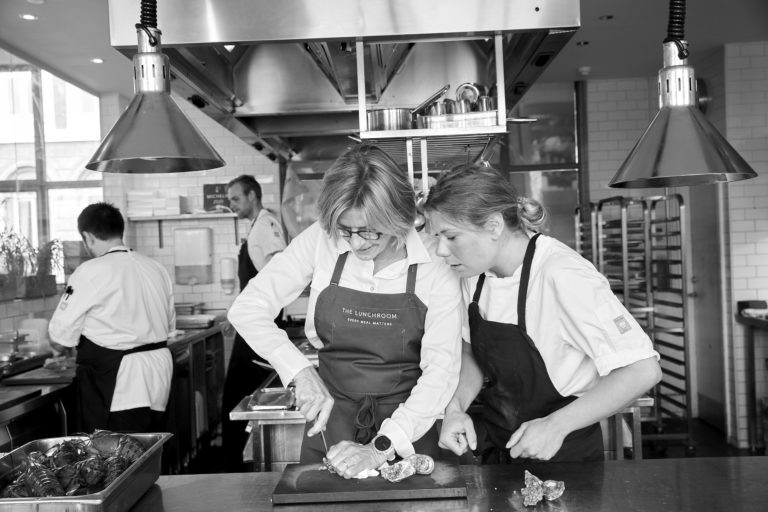 EVERY MEAL MATTERS

CAREER AT LOCA GRUPPEN
AT LOCA GRUPPEN, we offter career and development opportunities in
dynamic organization, and we are always interested in getting in
touch with qualified and motivated candidates
AT THE MOMENT WE ARE SEARCHING FOR
FOLLOWING CANDIDATES
Ambitious Chef
Do you want to be a part of putting Almanak i Operaen on the gastronomic world map?
Our newly renovated restaurant is located on top of Denmark's fantastic Opera House. We have been open for the last year and we are super proud that we have already made it onto OAD's 2022 list as "Highly Recommended". However, the ambitions do not stop here. We are therefore looking for you, who can become our new ambitious, creative, and passionate colleague in the kitchen.
Almanak i Operaen is part of the LOCA Gruppen, which also consists of, among others, Restaurant STUDIO, RADIO & Mission Green. LOCA Gruppen is set in the world to raise the bar for both the restaurant industry and not least to raise the bar for sustainable gastronomy in general.
You will therefore become part of a value-based and passionate workplace, with potential and development opportunities across restaurants and business areas. Read more about LOCA here
We are looking for a person who is:
A trained chef

You are a team player and a good colleague

You are passionate and have high ambitions on behalf of yourself and others

You are creative and want to help give the guest an extraordinary gastronomic experience

You are structured and are good at organizing your work

Are used to having many balls in the air in a busy everyday life
We offer:
You will become a part of a dedicated team where commitment is high
A workplace where we are passionate about our profession and your development opportunities
A workplace in a great development with a great degree of co-influence, happy and quality-conscious guests, customers, and colleagues
Full-time and salary according to qualifications. The position involves day, evening, and weekend work
To become part of the LOCA Gruppen, which has set out to become some of the best in sustainable gastronomy
Free fitness
Does this sound like something for you? Call or write directly to:
Christian Hoffmann, head-chef at Almanak i Operaen: 28 25 55 00 / cho@almanakcph.dk
We also look forward to hearing from you.
Sincerely, Merete, Christian Hoffmann (Head Chef, Almanac in the Opera) and the rest of the team
Waiter
On-Callers
On-Callers
ON-CALLERS
We are looking for a handful of hourly employees who can take shifts during the week and help during service or behind the bar
You have experience and are mature as a person
You are loyal and reliable
You want to develop yourself professionally within food & beverages
You agree to primarily work evenings, weekends, holidays, & public holidays
You can work both independently and in a team
You have an overview at the same time an eye for detail
You can keep a cool head even when things are busy
You can speak professionally English
We offer:
A workplace with orderly conditions and competitive pay
A workplace with a good tone in the kitchen and in the restaurant
A workplace with zero tolerance towards sexism, racism etc.
Send your application to head-chef Christoffer Sørensen: cso@studiocph.dk for positions in the kitchen
For positions in Front of House send your application to restaurant manager Jesper Nielsen: jni@studiocph.dk.
WOULD YOU LIKE TO BE A PART OF CREATING BIG TASTE IN HVIDOVRE?
Hvidovre's brand new cultural center Risbjerggaard has just opened its doors to all citizens in and
around Hvidovre. Due to the renovation, we expect to open Restaurant GAARDEN during the winter of 22/23, which will be the centerpiece of the cultural center
heart with the serving of both lunches, coffee, and cake and seasonal evening meals with good
wines, beers, and cocktails. LOCA Gruppen is behind GAARDEN, which operates, among other things, STUDIO, RADIO, and Almanak in
The Opera in Copenhagen – now we need YOU to add great flavor to Hvidovre.
We are therefore looking for: head chef, restaurant manager, chefs, waiters, and hourly employees
GAARDEN will have space for 70-80 guests, and our task is to create unique
restaurant experiences where both gastronomy and a high and personal level of service are in focus.
In addition to being open for lunch and evening, the working day at GAARDEN will be marked by
many exciting events and companies that accompany Kulturhuset Risbjerggaard's offers of
activities – and we will also offer theater menus, a break bar, and much more.
Head-chef
As head chef, you will be responsible for the day-to-day running of the kitchen in close collaboration with
the gastronomic developer in the LOCA Group, the restaurant manager, and CEO Merete Holst. This includes all the administrative tasks associated with a healthy and fun restaurant operation. The most important thing is that you have leadership skills and want to succeed with your team.
The ideal chef is:
Qualified chef with several years of experience.
Management experience is an advantage.
Confident in executing à la carte as well as events and parties.
Good at planning. Motivated by being at the forefront when it comes to quality, the guests' satisfaction and the well-being of your team. You yourself participate in production as well as in service and thus also in the roster.
Control your kitchen economy and your staff consumption.
A passion for sustainable gastronomy and knowledge of seasonal ingredients, local ingredients, sustainable products and common kitchen techniques.
Experience with social projects and inclusion is an advantage
Restaurant- manager
Souschef
Chef
Apprentice Chef
Waiter
On-Callers
We offer:
– A workplace with orderly conditions and competitive pay.
– A workplace with a good tone in the kitchen and in the restaurant
– A workplace with zero tolerance towards sexism, racism etc.
Send your application to CEO Merete Holst as soon as possible: mho@locagruppen.dk for positions in
the kitchen and to Head of Sustainable Operations, Chris Ammitzbøll Langholm:
cal@locagruppen.dk for positions in Front of House.
Further information is available from Merete Holst, tel: 2825 5500, or Chris Ammitzbøll
Langholm tel: 3118 2666.